Seminars and Workshops
Training/Education for analytical quality assurance as a service
Do you feel the need to improve your knowledge in analytical quality assurance for your daily lab work?
Every year, QuoData offers professional learning opportunities i. e. seminars, webinars and workshops covering topics directly related to our core competences. It is designed for those interested in learning about statistics and planning/evaluation in proficiency testing and more, which reflects latest statistical-based requirements of international standards.
Our well-experienced Data Scientists and PT experts provide first-hand knowledge on method development, proficiency testing and measurement uncertainty. Once the basics are covered, the focus is on advanced techniques and solving real-life day-to-day problems.
Your benefits:
Get a chance to significantly enhance your understanding in fields such as statistics and quality assurance
Get to hear first-hand about some of the latest developments from QuoData's lecturers who are members of various national and international committees
Get familiar with the latest requirements of international standards such as ISO/IEC 17025, ISO/IEC 17043, ISO 16140, ISO 5725
Initial objectives of QuoData training:
Focus on problem-solving on the basis of examples taken from typical practical situations
Gain deeper knowledge of planning/evaluation in proficiency testing and for interlaboratory studies
Expert guidance in designing and conducting method validation studies including how to report uncertainty values in measurement properly
Upcoming Workshops
Workshop: Method Validation and Statistics for Microbiological Methods
QuoData and FDA Workshop about Method Validation and Statistics for Microbiological Methods:
Part A – Qualitative Methods
Course Topics Include:
Statistics for qualitative microbiological methods (e.g. culture-based, immunoassay-based, and molecular)
Performance standards for qualitative microbiological methods: Scientific basis and how to interpret
Validation pathways and approaches for qualitative methods (ISO 16140 series and AOAC protocol)
Examples of single laboratory and multi-laboratory validation studies for qualitative methods
Workshop for the evaluation of interlaboratory studies with PROLab
The workshop for the evaluation of interlaboratory studies gives participants the opportunity to get a clear understanding of the standards behind proficiency testing and method validation.
English Workshop
When: 25. - 27. September 2019
Where: Berlin
Program: here
Workshop for in-house method valdiation studies with InterVAL
The workshop teaches you the basics of in-house validation and quality assurance, with which you can prove the efficiency of your measurement process and the legal certainty of your analysis results. You will get to know all aspects of validation: From planning and data management to evaluation and documentation.
German workshop
When: 05. - 06. June 2019
Where: Dresden
Program: here
Past Webinars
Get a taste of our webinars by checking out these clips from our last webinars (full version available by request).
Webinar 1:
mqVAL
Webinar 2:
Solutions for data import
Webinar 3:
What's new in ISO 13528
Webinar 4:
Best practices for PT
Also we gave two lectures on new approaches in the field of proficiency testing in October 2017. One of them at the PT Conf in Romania, and the other at the Eurachem PT Workshop in Slovenia.
Our presentations attracted wide interest, and we want to share them with everyone who had not the chance to attend.
Webinar 5:
Precision profiles and z score profiles
About: A QuoData initiated proficiency testing scheme. Within the proficiency test new approaches have been utilized to provide more reliable information on the performance of laboratories with the help z score profiles. This webinar is related to our contribution at the PT Conf 2017, in Romania.
Here you can download a summary of the webinar: https://quodata.de/s/Abstract_PTConf_2017.php
Webinar 6:
"Taking laboratory measurement uncertainties into account in assigned value estimates"
About: The consideration of laboratory specific measurement uncertainties for the performance assessment of labs within proficiency tests. This webinar is related to our contribution at the Eurachem PT Workshop 2017, in Slovenia.
Here you can download a summary of the webinar: https://quodata.de/s/Abstract_Eurachem_2017.php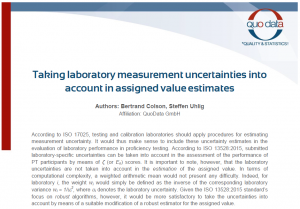 Webinar 7:
Utilize your PT results for internal quality control
Webinar 8:
Determine measurement uncertainties
Have an idea for an upcoming webinar? Send us an email at lerche@quodata.de
Registration
Want to join our workshops? You can register online here.
Previous Workshops
November 2018:
Workshop on Qualitative Microbiological Method Validation and Statistics
Juni 2018:
Workshop for the evaluation of proficiency tests and method validation studies with PROLab